As Seen in Black Belt Magazine: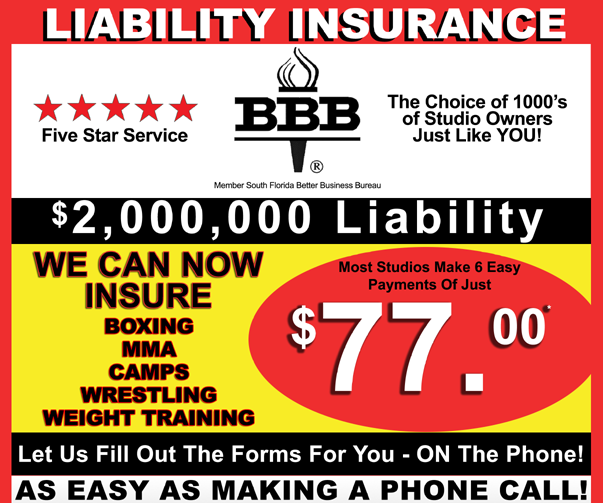 Why Choose Us For Your Martial Arts Insurance
Why Choose Us For Your Martial Arts Insurance
The biggest reason you should choose us over other martial arts insurance providers is because we are just like you! We began teaching martial arts over 30 years ago. In our early days, we found it hard to find sufficient coverage at a reasonable price to protect our schools. Our experience gave us an edge. We investigated all of the options for martial arts insurance and found a good one. We negotiated on behalf of hundreds of schools to obtain great coverage at an incredibly low price. Our martial arts insurance is such a good option that thousands of school owners use it to protect their business. It is hard to keep track but a good guess would be that we have helped in excess of 10,000 schools. Thousands of schools have trusted us for their martial arts insurance needs. So should you!
Call or email now! Our professional staff will assist your purchase.
Call (800) 207-6603 NOW!
or E-mail us at:
info@igomag.com
We Insure
We Insure
Karate Do
Tae Kwon Do
Aikido
Judo
Jui Jitsu
Brazilian Jui Jitsu
Mixed Mart Arts
Hapkido
Kung Fu
Kenpo
Kempo
Capoeira
We also Insure
Boxing
Kickboxing
Cardio Kickboxing
Tai Chi
Ninjitsu
Nunjitsu
Tournament
Events
Summer Camps
Property
Contents
Workers Comp